The Michigan tradition is grounded in providing opportunities to all qualified students regardless of race, ethnicity, gender, sexual orientation or religion. The Office of Diversity, Equity, and Inclusion, under the direction of Dr. Todd Ester, works with the Office of Student Affairs to provide recruitment, counseling and mentoring support.
The School of Dentistry was among the first dental schools to actively recruit and enroll students from diverse backgrounds. For more than three decades The University of Michigan has been a leader in graduating dentists from underrepresented groups.
GIVING
Consider supporting the following programs designed to further the University's mission for diversity and inclusion.
Program Support for programs designed to increase dental school admissions of prospective students from diverse backgrounds.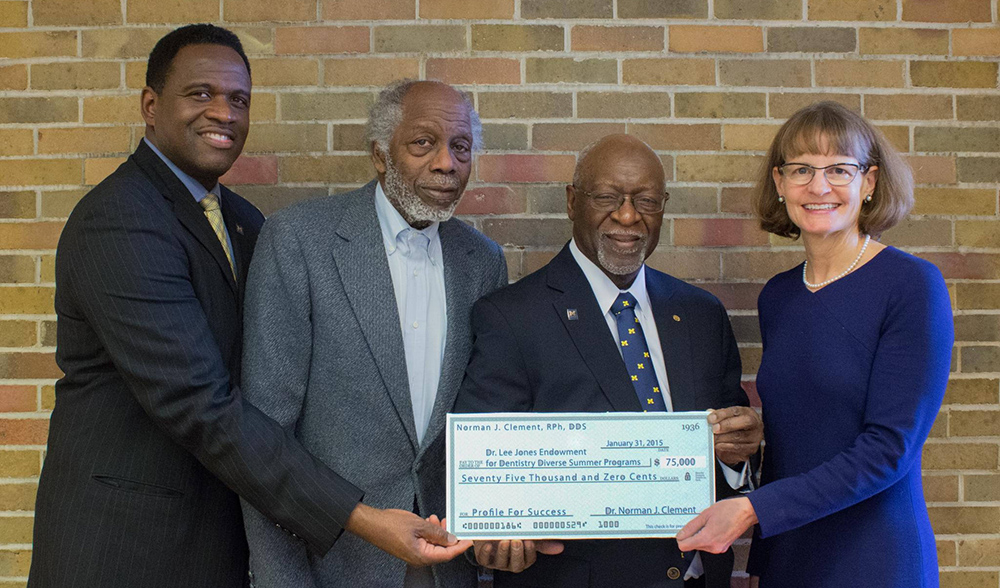 DIRECTOR
CONTACT
Diversity, Equity, and Inclusion Multicultural Affairs Committee (DEI-MAC)
The Diversity, Equity, and Inclusion Multicultural Affairs Committee (DEI-MAC) is comprised of students, faculty and staff from the School of Dentistry with the purpose of promoting diversity and planning activities that celebrate different cultures.
Cultural Competency Training Series
As a part of the School of Dentistry's Five Year Strategic Plan a Cultural Competency Training Series was implemented. This three part series includes Unconscious Bias Training, for dental students, staff and faculty, by external content experts (Cook Ross). By-stander intervention training "Change It Up" by the University of Michigan Human Resources department for dental students, staff and faculty. Our final program will be a plenary presentation by Howard Ross of (Cook Ross) on his book "Re-Inventing Diversity" transforming organizational community to strengthen people, purpose and performance.
LEARNING RESOURCES
Profile For Success (PFS)
The Profile for Success (PFS) Program assists undergraduate juniors, seniors, or recent graduates through the admissions process for dental school. The program targets socially or economically disadvantaged students as well as students with a commitment to serve underprivileged populations within the US.
The PFS Program has proven extremely successful. 56% of PFS students graduate dental school, and 33% graduate from the University of Michigan School of Dentistry!
Diversity Equity and Inclusion Five Year Strategic Plan
Building on the strengths of its university and state, a diverse University of Michigan School of Dentistry community will lead the science and practice of dentistry with preeminent research, contemporary and engaged learning, and exemplary patient care in a vital and sustainable manner.
Campus Climate Support
Do you have concerns about maintaining a respectful and welcoming environment? Please follow the button below to learn more about reporting campus climate concerns.